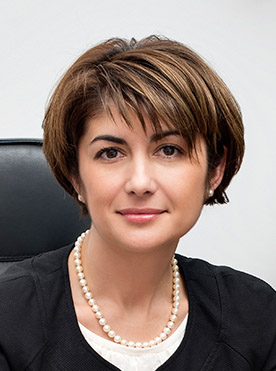 Miglena Ouzounova-Tsekova
HR Director
Mobiltel EAD, Bulgaria
Miglena Ouzounova-Tsekova has 16 years of experience in the area of human resource management in banking and telecom industries. Currently, she is an HR Director of Mobiltel EAD, part of Telekom Austria Group.
Throughout the years she has successfully realized various projects of organizational redesign and restructuring, process and cultural transformation, engagement turnaround, mergers and acquisitions. In her role as HR leader Miglena has designed and implemented talent management and leadership development programs.
Her team and she personally have been recognized and awarded for their successful work practices and programs implementation by professional HR and business organizations, as well as media and NGOs.
Miglena Ouzounova-Tsekova has a Master Degree in English and American Studies and a specialization in Mass Communications by Sofia University. She further graduated the Erasmus University in Rotterdam with an MBA diploma. A few years ago, Miglena was certified by the School of Industrial and Labor Relations of Cornell University in Strategic Human Resources Management.
Since 2008 Miglena Ouzounova-Tsekova is actively working for the Bulgarian HR Association, initially as a Board Member and now as a Member of Certification Commission for HR professionals in Bulgaria.